---
Current Shows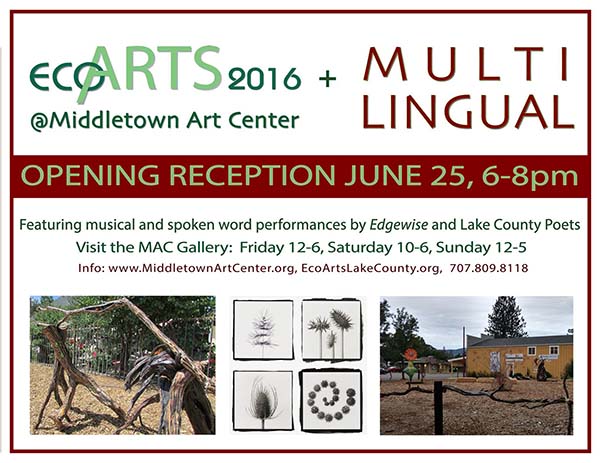 Multi Lingual and EcoArts of Lake County Sculpture Walk Installation both opened June 25, 2016reception from 6pm-8pm.Near the corner of Hwy 29 and Hwy 175 in Middletown California. You cant miss the happy yellow building. There will be snacks and fun people
Recent Shows and other EcoArts News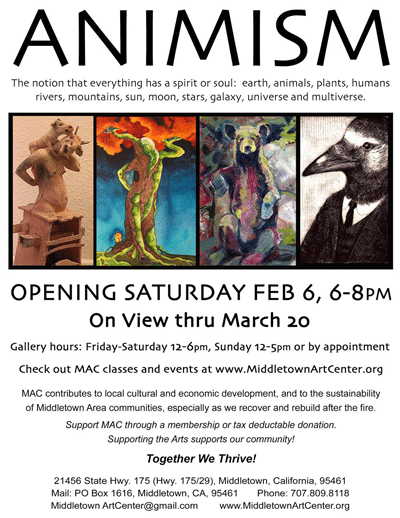 Alicia 's 2015 EcoArts piece called " Clearlake Winter Sunset " was installed
in Middletown County Park
part of
Lake County EcoArts Sculpture Walk 2015. That whole exhibit was ravenged by the "Valley Fire" Alicia's Mosaic faired pretty well. The frame was singed but it otherwise ok and Available For SALE!
2015 Lake County Eco Arts Sculpture Walk
was ravenged by the Valley Fire. Surviving artwork was deinstalled
IF YOU MISSED THE OPENING.....
Next Year's Sculpture Walk will be June - October 2016, This years sculpture installation is on the corner lot of the Middletown Art Center on Hyw 29 and Hyway 175 in Down Down Middletown on the Grounds of the Middletown Art Center
Hopefully the park will recover enough to be the sculpture walk's host next year..2017.
But you will have to bring your own refreshments... especially water...
PMildletown County Trailside Park is Closed due to fire damage from the Valley Fire 2015, our traditional sculpturewalk host.
Please come! Don't forget to wear sensible shoes, sun protection and a hat!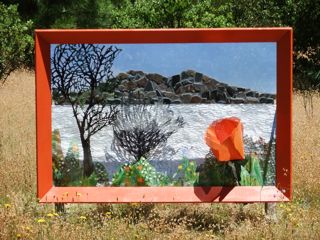 The picture above is of Alicia's 2010 Ecoarts Piece called"Roadside Attraction "diaramic landscape sculpture is about 4ft by 6ft by 2.5ft. It is primarily repouse perferated steel panels with a obsidian and rock mosaic mountain. It is freestanding with a big wood frame. It has moray paterns depending on light conditions.
COME SEE THIS PIECE AND MANY OTHER FABULOUS SCULPTURES
at the 2015 Lake County Eco Arts Sculpture Walk
More info about the current show :
2015 Eco Arts Sculpture Walk
Middletown County Park Lake County CA
DRIVING directions Highway 29 TO Route 175 TO Dry Creek Cutoff.
(Instructions for Bay Area people who have never been to Lake County...)
(Go through Calistoga, drive over Mt. Saint Helena ( kinda swigly...) and *poof *you are in Lake County. Middletown is the name of the first town (where the both the Lake County park and the EcoArts Sculpture Walk are.) The art is installed in the natural setting of the park. The trail is not paved. Wear sensible shoes and bring a walking stick if you aren't sure-footed.
For more information please e-mail Alicia@artfulalf.com or go to www.ecoartsoflakecounty.org
---
10 years of Lake County Eco Arts 2005-2015 Sculpture Walk for Alicia!!
Most Ecoarts peices from past Ecoarts Shows are For Sale. 2005. 2005 , 'Persephone Emerging' , 2006, "Lake County Landscape", 2007 "Daphne" and 2008 "Last Willow" and 2009 " Lake County Mosaic" Winter Memories, Clearlake Nocturne, Winter Daybreak, and others are ...NOW Available for SALE.
---
Previous Exhibitions and Shows
Recent Holiday Show featuring Alicia/s matted and signed tarot cards and ortiginal6"x9 linoleum prints and other linoleum prints and wood prints closed on February 2, 2016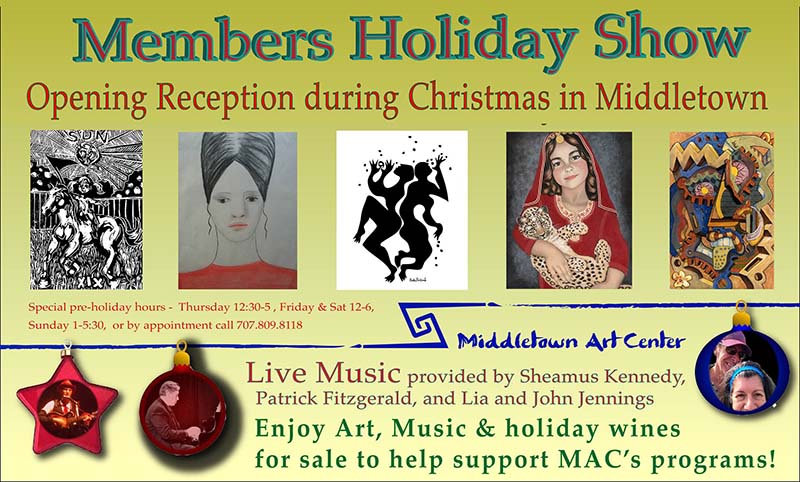 Alicia created a bunch of new work for the recent gallery show. "Nature" a group show of art inspired by nature created by Lake County artists honoring the natural world. The exhibit was up from August 15th- September 27th 2015. This was folwed by the Portraits show which closed December 9th 2015.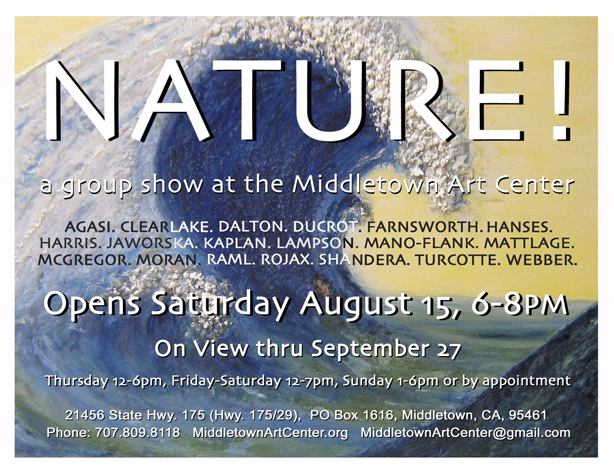 The Tallman Hotel Horticulture Weekend and sculpturewalk in 2013. The Tallman hotel is a lovingly restored historic hotel with restaurant, event space and art in historic Upper Lake, CA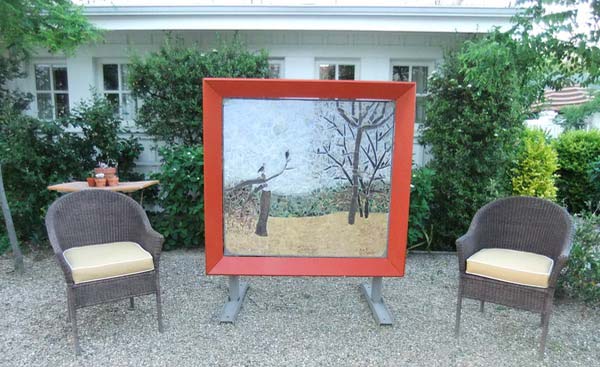 "Celebrating the Female Form" Group Show. Airport Muse Gallery, Petaluma Airport, Petaluma, CA December, 2010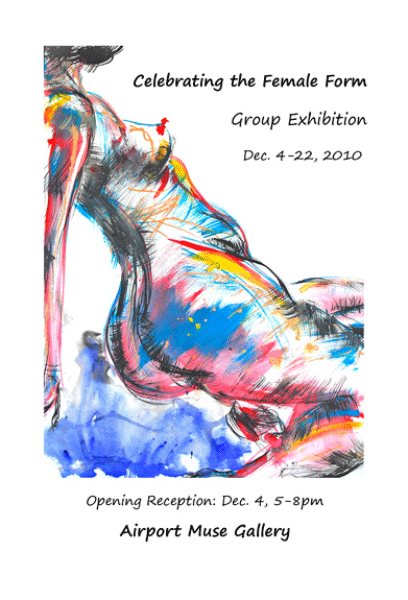 "Lake County Wine Adventures" July 25th and 26th 2009
"Lake County Landscape" and "Last Willow" were installed at Six Sigma Winery for the 2009 Lake County wine event.
Previous to 2009 "ART in Public Places" exhibits work in government buildings. Alicia's paintings andframed digital work was displayed at displayed at Clearlake City Hall and Bank of The West on Olympic Blvd in Clearlake
June 2005-October 2005
Eco Arts Winter 2005 Art Show
at the Calpine Building.15500 Central Park Road in Middletown CA
Saturday January 29 2005
---
The Soroptomist Craft fair in October 2004...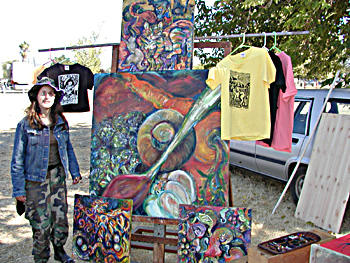 This picture of Alicia LeFarnswoth and her art ran in the
Clearlake Observer-American newspaper October 2004
---
Shows From Years Passed...
Oct-Nov 2000
Disabled Artist's Window Project
October 12- November 3, 2000 This Group show Featured Alicia's paintings, sculpture and signed digital prints as well as the work of several other artists.
The Show Opening and Artist's Reception was October 19, 2000
---
March 2000

Here is the announcement from my group show at Cellspace in March 2000
The bear sculpture on the left is Alicia's work.
---
Come back soon for new information. For more information please e-mail Alicia@artfulalf.com