COME SEE Alicia's latest hand carved, hand fired custom glazed mosaic with custom colored grout and and mica accents took almost 2 years of thought and pre- planning and 3 solid months of labor. This piece has 6-8 kiln loads of tile made from scratch.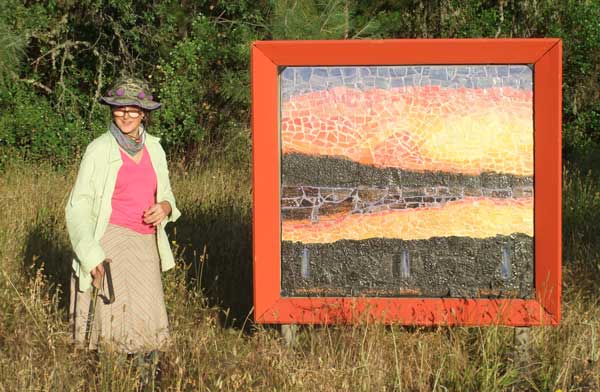 Installation picture of Artist, Alicia Lee Farnsworth and her 4'x4' hand made,custom glazed and grouted landscape mosaic called Clearlake Winter Sunset installed at the Middletown County Trailside park as part of EcoArts of Lake County Sculpture Walk 2015. from June-October 2015. The Park and the sculpture was ravaged by the Valley fire on Sept 12-13th and survived it. This picture shows the art and the park pre-fire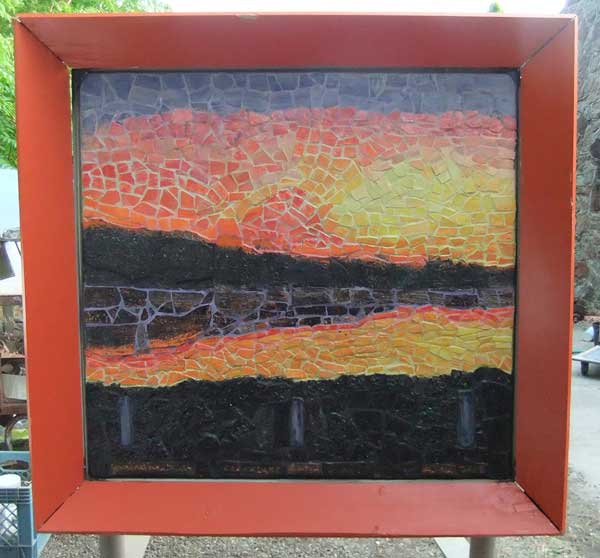 called "Clearlake Winter Sunset"
and many fabulous others at the
2015 Lake County Eco Arts Sculpture Walk
on the main trail of the Middletown County Park on Dry Creek Cut Off road in Middletown, Lake County, California
The 2015 EcoArts Sculpture Walk will be on display from June through mid October 20155
and may be viewed anytime during daylight hours.
The Artist Reception was Sunday,
June 7th 2015, 10 am -1pm
There was music refreshments,the art, the artists and, of course, the great outdoors...Although the reception is over you can still see the art along the man trail until it is removed in Late October 2011.
As always, wear sensible footwear and sun protection. It tends to be hot sunny and sometimes windy!
---
Last Year's Hand Made Mosaic Landscape for Eco Arts 2014
"Winter Daybreak"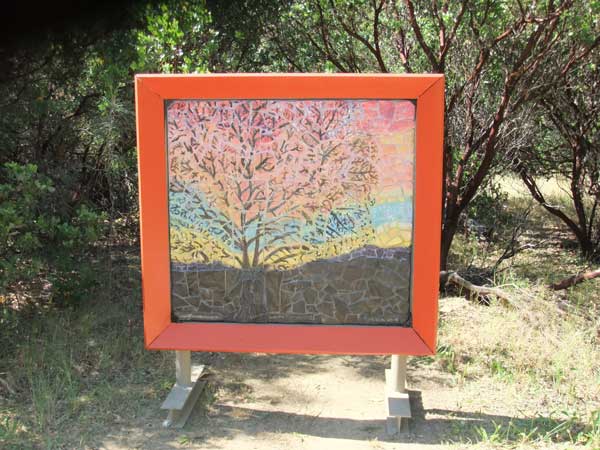 ---
Hand Made Mosaic Landscape for Eco Arts 2013
"Clearlake Nocturne"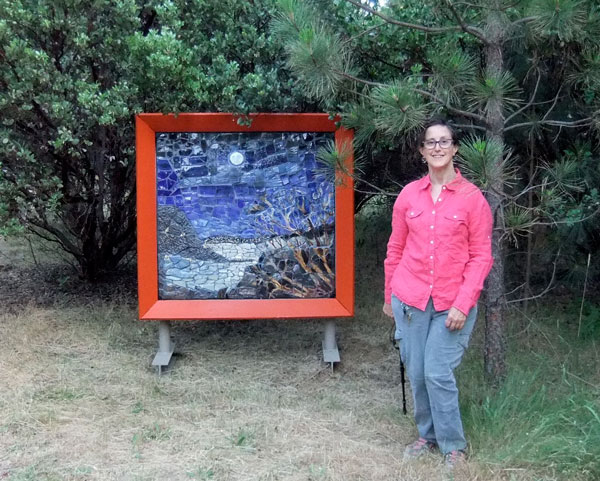 ---
Alicia Farnsworth's first ALL handmade, carved, custom glazed and grouted mosaic landscape for the 2012 EcoArts of Lake County Sculpture walk.

The piece below is now owned by a private collector, installed near the coastal town of Mendocino.

"Autumn Memories"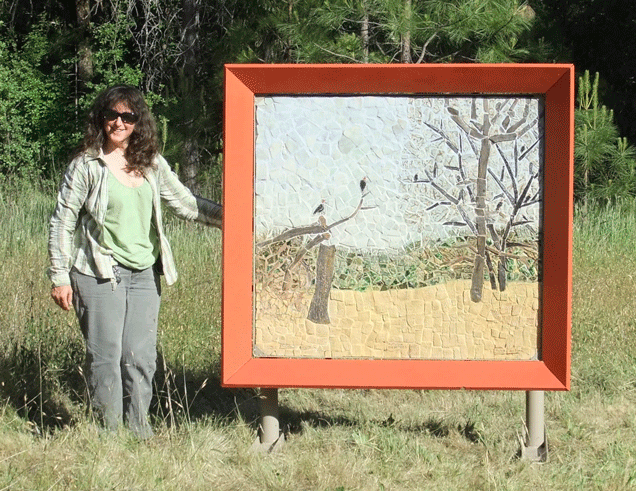 ---
Winter Memories " for EcoArts of Lake County 2011 by Alicia Farnsworth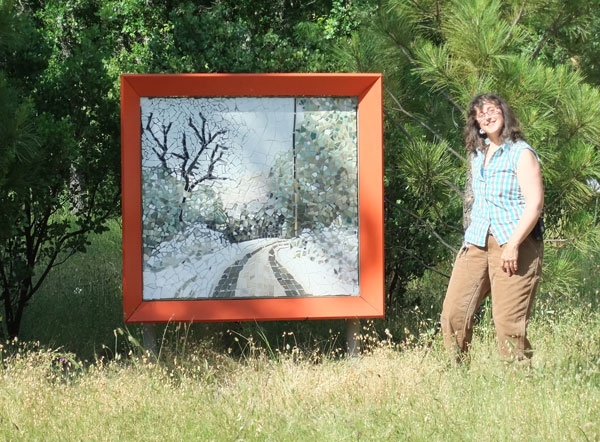 Recycled ceramic, marble and stone mosaic tile on a steel base with a wood frame.
---
" Persephone Emerging" Reworked for 2010!
This time the goddess can be had for $2400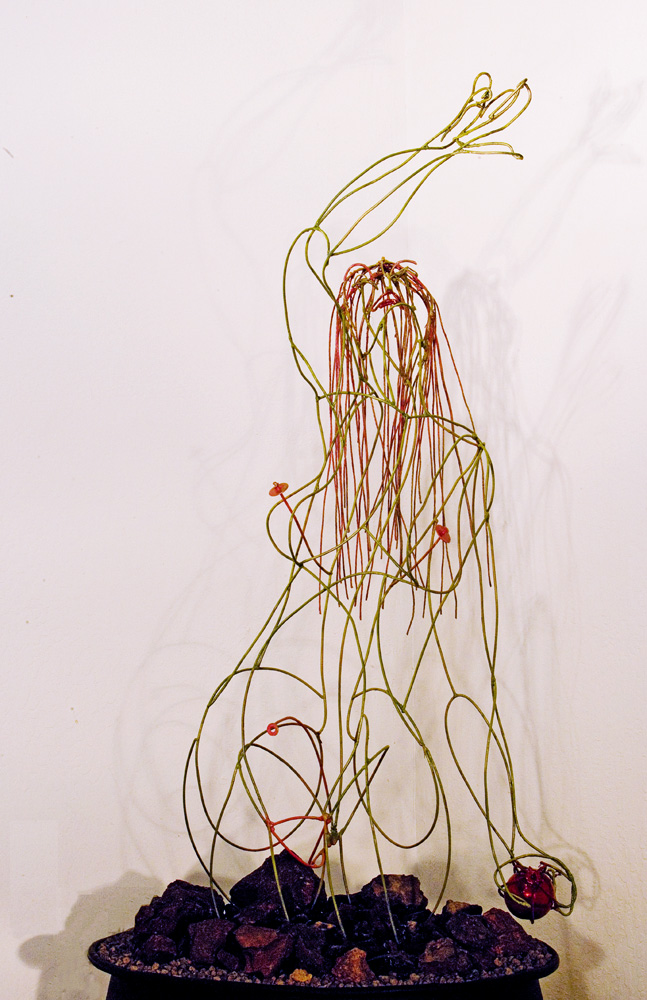 Photo By Herb Lingl 2010
"Persephone Emerges" pictured here in 2010 !
This time with new colors and a new swanky base.
The base gives her a little status deserving of a goddess.
Her new custom base holds the lava rocks and obsidian from which she emerges
She was just one piece in a group show of several emerging artists
curated by Herb Lingi of Airport Muse, See www.airportmuse.com
called "Celebrating the Female Form: Drawing, Painting Sculpture"
The opening reception was Saturday, Dec 4th 2010 from 5 pm- 8pm at the Petaluma Airport,

Alicia also Hand Printed a special edition of 24 prints, matted from the original"Queen of Orbs" linoleum block. This print edition will hopeful develop renewed interest and publishing opportunities for the "Artful Impression Tarot'
Original prints are still sale both framed and unframed
Unframed Archivally matted on Rives paper- S75
Framed and Archivaly matted on Rives paper -$175
just contact Alicia if you are interested
---
2010 Landscape Diorama A composite of perforated metal repouse panels and stone mosaic
for Eco Arts 2010
"Roadside Attraction"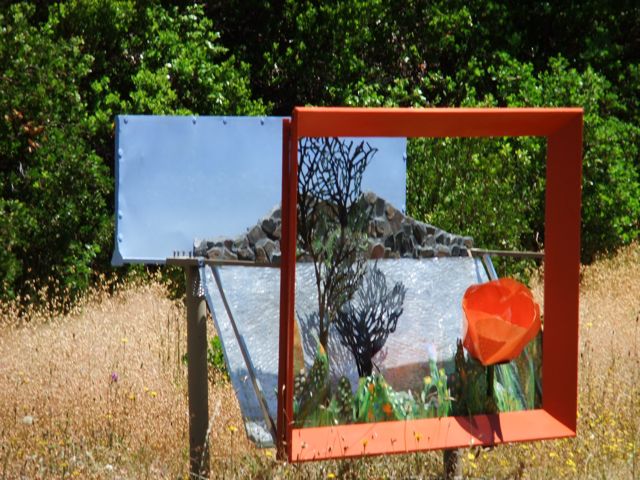 ---
Alicia's first mixed media mosaic landscape was done foe the 2009 EcoArts Sculpture...
"Lake County Mosaic"
EcoArts 2009 installation was made from, Mosaic Mirror Tile and Stone...
"Lake County Mosaic "is now available for sale.
You may email me or contact Eco Arts of Lake County's Karen Turcotte if you are interested. Commissions and smaller pieces can be made to your specifications.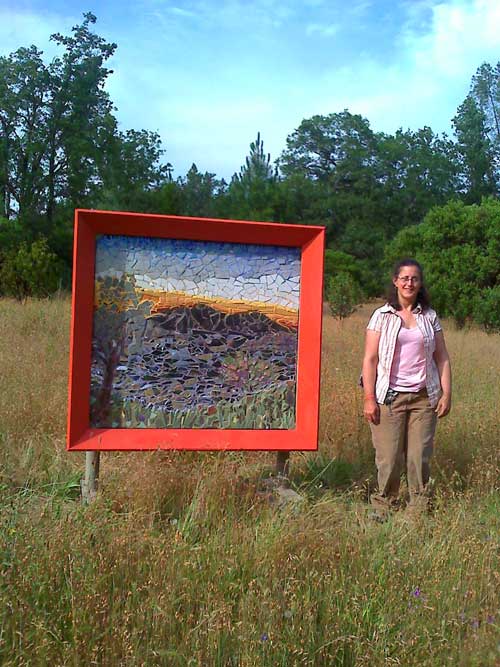 ---
"Last Willow"
My EcoArts piece from 2008 (shown below) Is made from the last of the Pacific Willow that I scavenged from my neighbor. I like the abstract form.
For the 2009 Lake County Wine Adventure on July 25th and 26th 2009. I spruced up this piece, adding more tung oil and more red accents. The piece was installed installed at Six Sigma Winery for the wine tasting event. "Last Willow"is for sale. You may email me or contact Karen Turcotte if you are interested. Commissions and smaller pieces can be made to your specifications.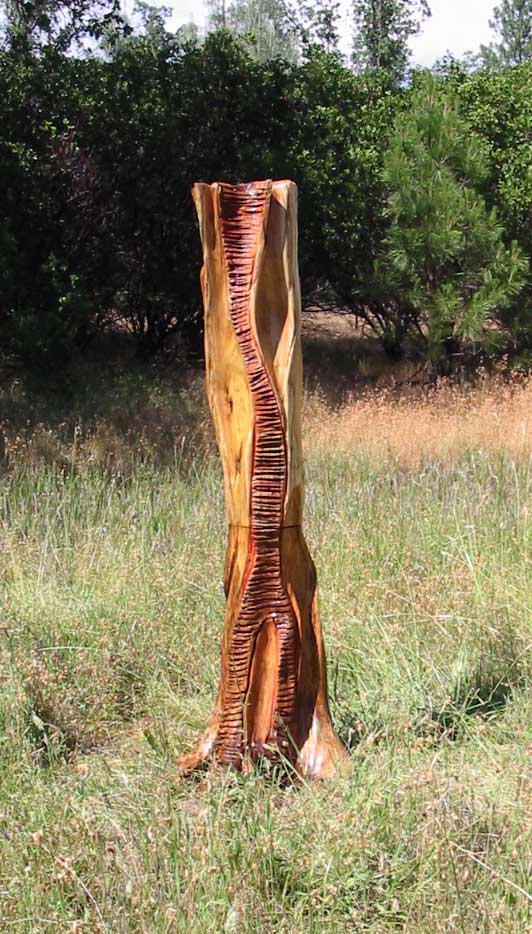 The 2008 EcoArts Project, Last Willow and the 2007 Daphne piece are both
Carved Scavenged Wood with tung oil finish.
---
"Daphne"
She was my first venture into larger scale wood sculpture. She was also the first to greet you on the 2007 EcoArts Sculpture Walk trail.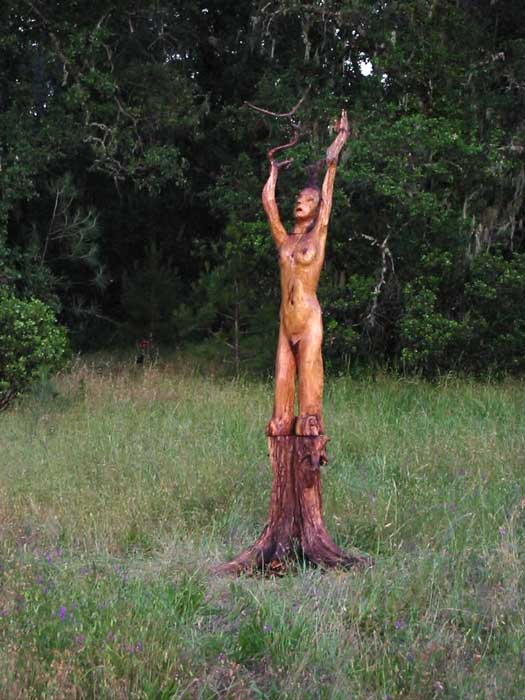 She is 10 feet tall carved from Pacific Willow stumps with California Oak arms.
All wood was scavenged from my neighbor's yard after he cleared his lot to build a house. She is finished with tung oil and stain.
The picture below was Alicia's piece for the 2006 EcoArts
called "Lake County Landscape" (as it was installed in 2006). It was refurbished for 2009 and on exhibit at Six Sigma Winery for the Lake County Wine Adventure July 25th and 26th This piece and Last Willow were both on display there for that 2009 wine tasting event. I also displayed this piece at last summer's Blue Grass Festival at Anderson Marsh State Park. This piece is still available for sale. Contact Alicia or Karen Turcotte of EcoArts of Lake County if you are interested in owning this piece or others. Smaller pieces and commissions can be made to your specifications
Lake County Landscape was my first steel Dioramic landscape. It has painted steel panels with a wood frame.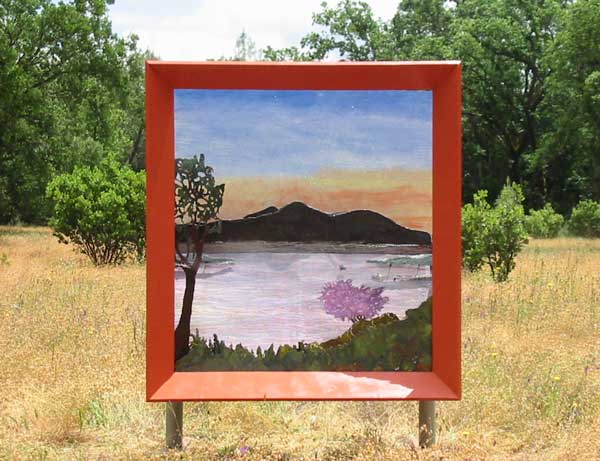 From the front This sculpture looks like a traditional landscape view of Mount Konocti and Clearlake in Lake County. It is actually a series of panted perforated, expanded and solid sheet panels. The piece is translucent and in certain lights the layered water panels resemble sparking waves... especially with a little wind. It is best viewed in the morning. This picture was taken at about 1 PM. See more pictures at the sculpture page or go to www.slaggirl.com to see the sculpture from different angles.
Questions about the sculpture?
Email slaggirl@artfulalf.com
---
EcoArts 2005 Project
The EcoArts 2005 sculpture, "Persephone Emerging"has been reworked for 2010
Click here for more details or Click on the Eco Arts link below
See many of the past EcoArts sculptures in a Virtual Sculpturewalk at the EcoArts Lake County Sculpture Walk website
Click on the images below to see more
Click Here to read the Myth of Persephone